Get the Best of Black Friday Cyber Monday 2022 with OAXIS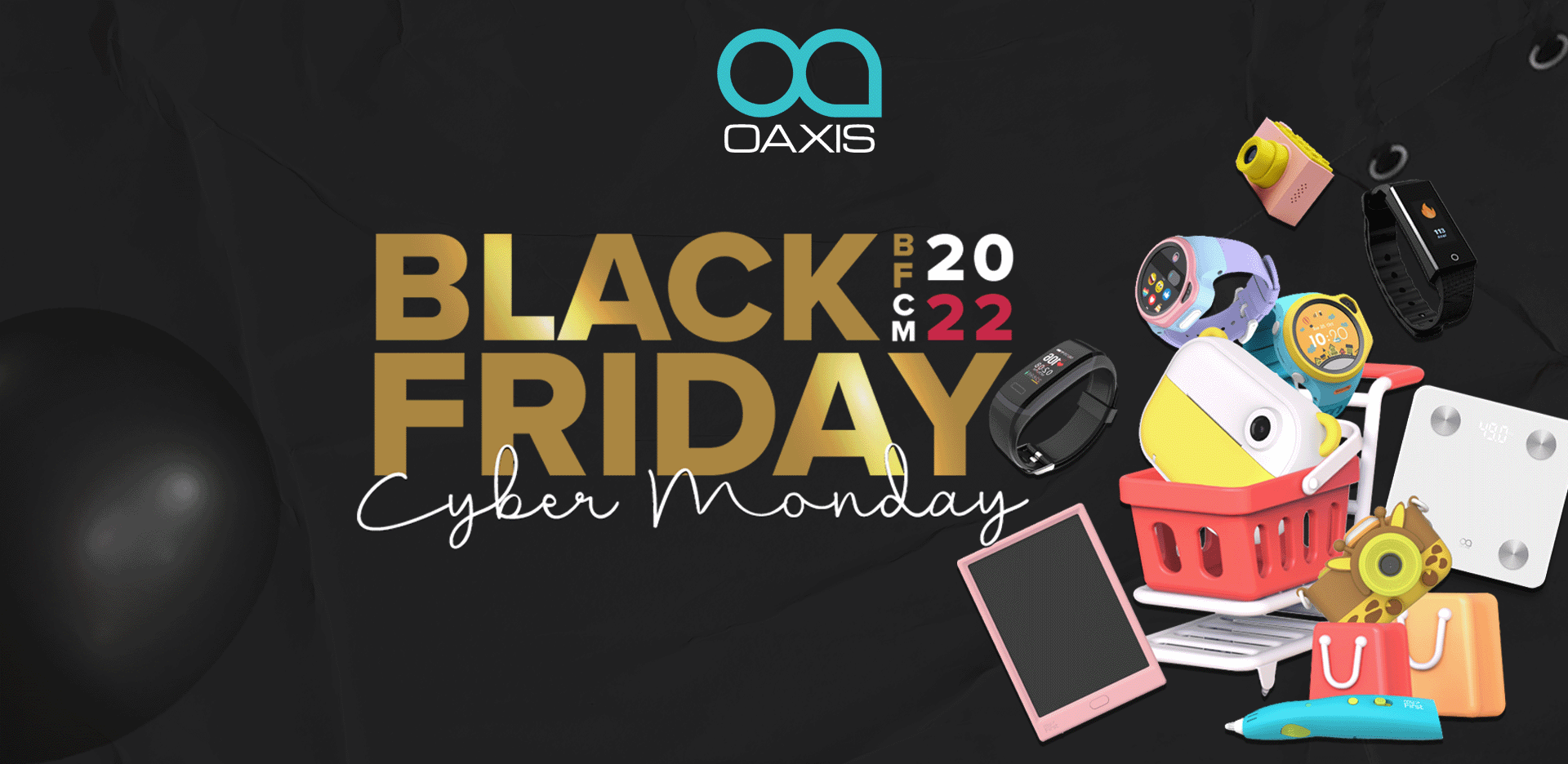 Get Ready, It's Almost Time For BFCM 2022!
Good grief, 2022 sure did flew by us! Look, it's almost time for the most anticipated shopping season of the year!

The Black Friday Cyber Monday all over the world began on the 25th of November 2022, the day after Thanksgiving. Are you prepared for it? Or are you all shopped out during our 11.11 Super Sale?

No worries, we have an even bigger deals prepared for this year's Black Friday Cyber Monday promotion! You'll save even more by shopping with us during this period. 😍
Check Out Our Collections
Ready For Our Offers?
Let's Go!
*Not applicable for myFirst Fone R1s
Let's start it off with a 30% OFF DISCOUNT for all our products storewide! No need to add any voucher code, just add to cart and you're good to check-out! There's also no minimum purchase limit for this discount, so shop to your heart's content! 😍

This discount is NOT APPLICABLE for myFirst Fone R1s, but don't worry, our best-selling product has its own special promotion!

DID YOU KNOW? We had just launched two new products recently which is the myFirst Camera 10 & myFirst Sketch Pro Neo. What's even better is you can get them under this discount too!

Check them out now:
Got Your Eyes on myFirst Fone R1s?
Check-out our best-selling product this year: the myFirst Fone R1s! The cute & elegant design made your kids fall in love with it at first sight, while the amazing features it has stole the heart of many parents!

In celebration of BFCM2022, we are giving you 15% OFF our myFirst Fone R1s! You may get it for your kids at only US$168.30! It would be the best Christmas present for them this year!
What's That? Still Want More?
*Not applicable for accessories
Not crazy enough? How about getting 40% OFF DISCOUNT when you made a purchase of minimum 3 items? What's even better is that this discount also applies to our myFirst Fone R1s!

Imagine purchasing 3pcs of our myFirst Fone R1s and receiving 40% OFF discount, that's only US$119.40 EACH! What a steal!!!

You can only combine the products you want, like 1pcs of myFirst Fone R1s, 1 myFirst Camera Insta Wi & how about 1 myFirst Sketch Pro Neo too? That's just a total of US$220.20 AFTER DISCOUNT! CRAZY!!!
Here's a little tip: myFirst Fone R1s works best with myFirst Headphones BC Wireless!
Worried About Shipping Cost?
Be at ease! We are offering you a FREE SHIPPING DISCOUNT for ALL ORDERS ABOVE US$110 / £100! So shop to your heart's content because all shipping fees will be on us! 😉
Campaign Terms & Conditions
1. This promotion is valid from 23rd November to 29th November 2022 on OAXIS Official Online Store only.
2. Only ONE (1) type of discount can be applied to each product in a single purchase.
3. Products purchased during a promotional campaign are entitled to a 30-days warranty period only.
4. Strictly NO RETURN or REFUND for products purchased during a promotion campaign.
5. Free Shipping promotion is applicable to selected countries only.
6. OAXIS reserves the right to amend the Terms & Conditions of this promotion at any time without prior notice.